Culinary excellence will put your senses in turmoil
Experience an unprecedented form of complete enjoyment and try unusual and exquisite delicacies.
The Eatrenalin Dinner offers the pure Eatrenalin experience, while at the Champagne Dinner or Sommelier Dinner, true gourmets will feel like they are on cloud nine!
The Eatrenalin experiences are multisensory productions, during which all details are perfectly aligned in order to send your senses on a unique journey. Lean back in your floating chair and experience a perfectly orchestrated arrangement, made of visual, acoustic, olfactory, gustatory and haptic elements. The Eatrenalin experiences take over 100 minutes. Our tip: In order to get attuned in the lounge and ending the evening in the bar, you might want to plan around three hours for your Eatrenalin visit.
Eatrenalin is coming soon
In autumn 2022, you will be able to experience the innovative restaurant world first Eatrenalin. The exact opening date as well as information regarding bookings will be announced shortly. Our tip: Combine your Eatrenalin visit with a dreamful stay in the Europa-Park Resort!
An astounding eight-course menu
The Eatrenalin menu
Each course is a culinary piece of art, which surprises and inspires. Lean back and enjoy a spectacular journey of your senses with great worlds and dimensions, paired with the highest culinary indulgence.
You can enjoy the eight-course menu at the Eatrenalin Dinner, the Champagne Dinner and the Sommelier Dinner.
Lounge
Indulgent introduction
Jerusalem artichoke I Black truffle
Crispy caviar
Waterfall
Ritual for the palate
Smoke I Hazelnut I Nori
Discovery
Magical revelation
Tiger milk I Szechuan pepper blossom
Ocean
Sensuality from the depths of the sea
Seafood | Plankton | Champagne
Taste
Small explosions of flavour
sour | sweet | bitter | salty
Umami
Asia's fifth dimension
Sashimi and grapefruit I Nigiri with roasted bell pepper I Dim Sum
Universe
Mysteries from space
Beef I Monolith brioche I Manioc-Coal
Incarnation
Sweet transformation
White chocolate I Chambord I Tahiti-Vanilla
Vegan Menu
LOUNGE: Jerusalem artichoke I Parsnip I Black truffle
Crispy mushroom I Celeriac I Onion
WATERFALL: Granny Smith I Shiso I Macadamia
DISCOVERY: Tiger milk I Szechuan pepper blossom
OCEAN: Seaweed salad I Ginger dashi I Plankton
TASTE: sour I sweet I bitter I salty
UMAMI: Sashimi and grapefruit I Nigiri with roasted bell pepper I Dim Sum
UNIVERSE: Cauliflower I Monolith brioche I Manioc-Coal
INCARNATION: Tahiti-Vanilla I Chambord I Cashew
Eatrenalin is enjoyment at the highest level
Eatrenalin means experiencing with all the senses
Eatrenalin offers amazement without limits
Multisensory cuisine
The Eatrenalin experiences
Pamper yourself with exquisite champagne at the Champagne Dinner, enjoy exquisite wines at the Sommelier Dinner or book the pure Eatrenalin experience with the Eatrenalin Dinner. You can choose between the range of unique offers.
The Dinner experiences incl. eight-course menu
Embark on a journey of the senses with an eight-course menu with paired drink creations.

Enjoy the Eatrenalin experience including an eight-course menu and top-quality champagne from Laurent-Perrier. The exclusive experience for real gourmets!

The Eatrenalin experience including an eight-course menu complemented by top-class wine recommendations from our sommelier. The perfect choice for wine lovers!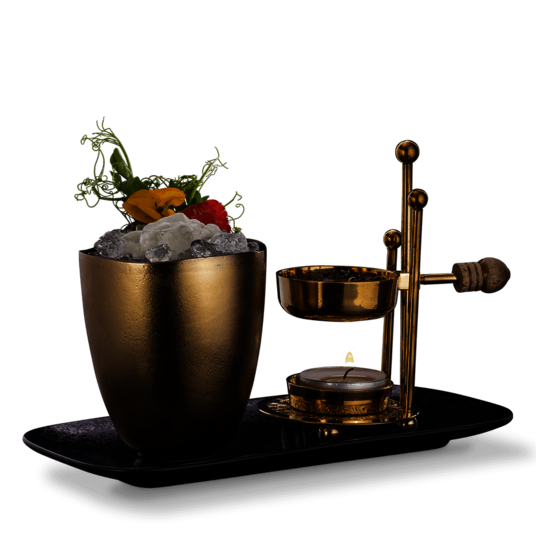 Eatrenalin Bar
After the Eatrenalin Experience, marvel at what you have experienced in the stylish Eatrenalin Bar, share impressions or simply indulge in your own imagination. An intoxicating evening comes to an end...
Culinary genius
This Eatrenalin team will amaze you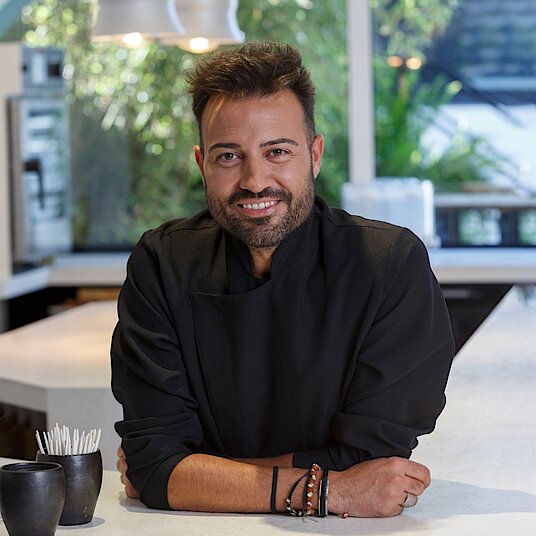 Pablo Montoro
Pablo Montoro is the creative genius behind the Eatrenalin kitchen and a known star in his native Spain. For him, enjoyment comes first. He and his team want to take Eatrenalin to a new culinary level!
Ties van Oosten
The Dutchman Ties van Oosten has brought many years of experience from renowned star restaurants such as Noma in Copenhagen, creating an indescribable culinary symphony with Pablo Montoro.
Juliana Clementz
The Franco-Austrian Head Pâtissière Juliana Clementz is the winner of the well-known Marmite Youngster Competition 2020. Her CV is characterised by residences in exclusive 2 and 3 Michelin star restaurants in Sweden, Germany and Switzerland. She lifts the Eatrenalin Patisserie into new culinary spheres.